EML to PST converter don't come in many forms. Most of them have a similar set of features and along with that comes a similar set of setbacks and challenges. A large portion of such solutions are from unreliable sources that have no tech support or any other necessary features that make an email migration successful or efficient.
Another major issue seen with such converters is often the lack of user-friendliness that can make the job very painful and frustrating. They either have a lot of features that make the interface cluttered and hard to implement them, or they are too simple to offer any sort of practical efficiency during file conversion.
Both EML and PST are common files but they share a lot of dissimilarities, making the data extraction from one to the other challenging and time consuming.
The biggest concern is lack of data integrity, meaning the output PST files don't share the same details as in original EML files. This can be fine in some cases but not in many of the cases. You can lose your images or their metadata, email headers like time and date stamps, email addresses like To, from, and cc/bcc (especially those in Non-English language). This data integrity loss has never been dealt properly while Importing EML to Outlook.
But enough about the problems. If you came here to find out the best way to convert EML to PST, you will not be disappointed.
Mail Passport Pro is the complete solution for all your conversion related to EML and other file format. It's completely free and safe. Give it a shot and try it yourself right now. It's the best way to see how much the difference could be between ordinary EML To PST converters and professionally developed ones like this one.
If you don't want to do that right now, continue reading below to find out more about this amazing EML to PST converter.
The tool is officially titled "Mail Passport Pro." And Gladwev Software is officially one of the leading sources of the best and most user-friendly tools in the email migration domain.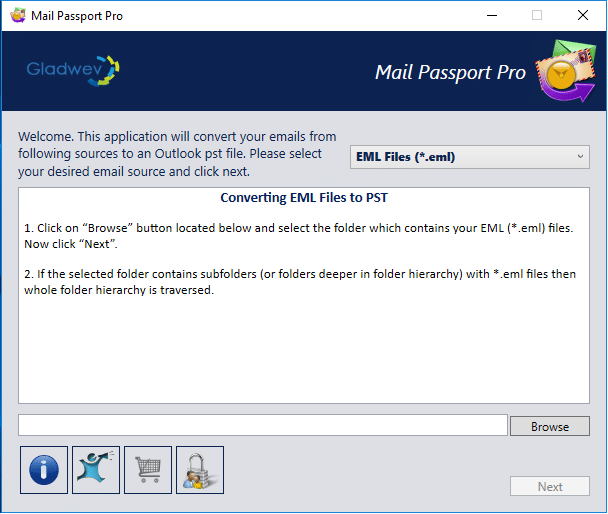 Here's a simple list of what "Mail Passport Pro" is and what if offers:
It's a Window based application to convert many email client's data from Mac OS, including EML files to PST files that can be used in all Outlook versions including Mac Outlook edition.
The tool allows batch conversion of EML files to PST and doesn't slow down or affect other parts of migration process when handling large and multiple files.
It has full support to get all the minute and intricate details of your database in EML files, like images, attachments, headers, metadata, Non-English content, and so on. What you input is exactly what you get as output, except in PST format. The rest of the architecture remains same.
"Mail Passport Pro" comes with a tech support team backing you up at every step. Just get in touch with them and have all queries answered or any setbacks resolved.
The tool allows limiting the output size of PST files and automatically create additional files if the total output size can't be fit into one file. This gives you multipole PST files but all under an acceptable size limit, making it easier to import them later to Outlook.
Once again, the best way to find out more and in detail is to actually use it. Good news is that you can do it right now at no cost. Get the free trial version.